O-Shot® for Women - Aventura, FL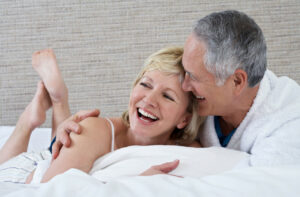 Men are not the only ones who lose sexual desire as they get older. Women also experience a lower sex drive due to aging, menopause, and even after childbirth. As a result, women may have problems maintaining a healthy relationship with someone else if they cannot build their sex drive back up again.
Does any of this sound familiar? Are you a woman with a low sex drive? Here are the possible signs that you may have some kind of sexual dysfunction issue:
Little interest in sex
Cannot achieve orgasm
Sex is painful
Urinary incontinence
These sex-related issues can be unbearable to live with every day. Fortunately, there is a viable solution called O-Shot® for treating female sexual dysfunction. This revolutionary new treatment is available at Gousse Urology in Aventura.
What is the O-Shot®?
O-Shot® is an advanced sexual dysfunction treatment formulated for women. It is a natural solution for reversing sexual dysfunction by revitalizing the functionality of the vaginal walls and clitoris.
You don't need to get surgery because the entire treatment process only involves the use of needles rather than scalpels. The doctor will take a blood sample from you and give you a few injections, which is the extent of the invasiveness of this procedure.
The urologist extracts platelet-rich plasma from the blood sample and uses it as the base ingredient for the O-Shot®. Once the O-Shot® injections are made in the vaginal area, it will stimulate cellular growth within this region to restore your sexual function. No chemicals or artificial ingredients are used.
What are the Benefits of the O-Shot®?
O-Shot® has many benefits over other female sexual dysfunction treatments. Some examples of these benefits include the following:
Enhanced sexual stimulation
More vaginal lubrication
More sexual stamina
More sexual desire
Tighter vaginal opening for better orgasms
Less risk of urinary incontinence
As a result, O-Shot® can help you have sex for longer periods and achieve one or more thrilling orgasms. Some female patients notice the results of the O-Shot® soon after the procedure. Of course, the results vary for each patient, but you should notice sexual improvement within a short time after the procedure.
How Is the O-Shot® Procedure Performed?
There are only five steps associated with the O-Shot® procedure. All of these steps can be completed within 30 minutes on average.
The steps are as follows:
1) The urologist extracts a small blood sample from the female patient's arm.
2) The urologist places the blood sample into a centrifuge device (FDA-approved), which rotates profusely and extracts platelet-rich plasma from the blood sample. Now the plasma is separated from the blood.
3) The urologist turns the platelet-rich plasma into a more robust platelet-rich fibrin matrix.
4) The urologist administers a local anesthetic gel onto the vaginal region to numb it before giving the O-Shot® injections.
5) The urologist administers the O-Shot® injections containing the platelet-rich fibrin matrix in them. The injection sites are the clitoris and the vagina.
When Can I See My O-Shot® Results?
The early results of the O-Shot® will come within a few days after the procedure. This will give your stem cells and vaginal tissues some time to get stimulated and rejuvenated. The maximum results should be noticeable after about four months. 
Ready to Schedule Your O-Shot® Consultation in Aventura?
We recommend you get your O-Shot® injections every four months to maintain the results. However, the recommended intervals vary for each patient based on their receptiveness to the O-Shot® solution. Dr. Gousse can explain this in more detail during your sessions with him.
You can schedule an O-Shot® consultation with Dr. Gousse in Aventura. Call us at (954) 362-2720 or use our contact form for more information on our O-Shot® procedure!
O-Shot® FAQs in Aventura 
Do I qualify to get the O-Shot®?
Dr. Gousse will determine your O-Shot® eligibility by performing a comprehensive medical examination on you. Most patients are eligible to receive an O-Shot® unless they currently have a vaginal injury or urologic disease. If you're not eligible for the O-Shot® procedure, Dr. Gousse will recommend an alternative treatment to reverse your sexual dysfunction.
How much does it cost to get the O-Shot®?
There are numerous factors that contribute to the cost of an O-Shot® procedure. Call (954) 362-2720 for more information about the pricing.
Does health insurance cover the O-Shot® procedure?
Most health insurance carriers consider O-Shot® injections to be an elective procedure, which means they don't cover it. Health insurance carriers typically cover medical procedures required to improve your physical or mental health, but not necessarily your sexual health.
Contact your insurance provider to learn more about what is covered under your policy.
Is the O-Shot® safe?
Yes, it is completely safe to receive O-Shot® injections because the primary ingredient is the platelet-rich plasma from your own blood sample. No outside chemicals or ingredients are used to create the O-Shot® solution. That is why you won't experience any adverse reactions from getting the O-Shot® solution injected into your vaginal area.
If you still have concerns about the safety of the O-Shot® procedure, you can share them with Dr. Gousse. He will help you understand the specifics of the procedure in more detail.
Why Choose Dr. Gousse for My Aventura O-Shot®?
Dr. Angelo Gousse is a renowned urologist with over 25 years of experience treating patients in Aventura. He has helped hundreds of women reduce or eliminate their sexual dysfunction problems.
The O-Shot® procedure is the latest advancement in treating female sexual dysfunction, and the positive results are overwhelming. So, there is a good chance it will work well for you.